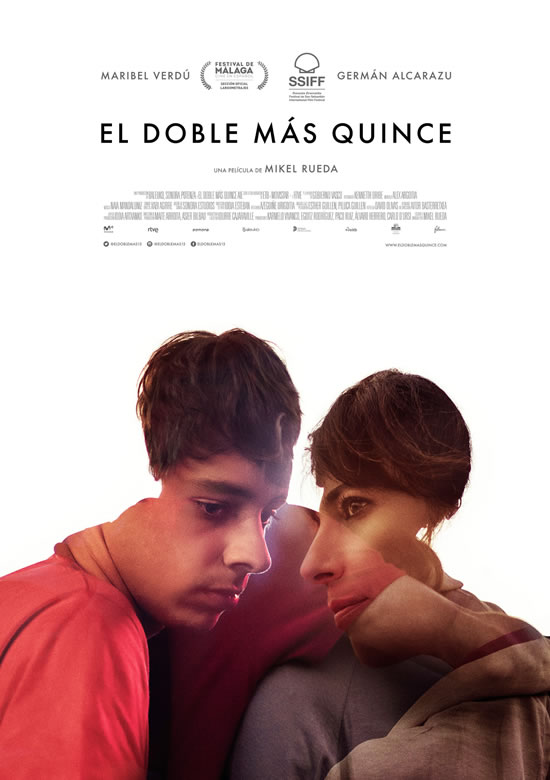 Double plus fifteen
SPAIN RELEASE
February 28, 2020
MADRID PRODUCTION COMPANY
Potenza Producciones, S.L.
Address
San Bernardo, 74, 1D, 28015 Madrid
TELEPHONE NUMBER
34 911 28 00 06
OTHERS PRODUCTION COMPANIES
El Doble Mas Quince, A.I.E. , Baleuko, S.L. , Sonora Estudios, S.L.
DISTRIBUTION
Filmax, S.A.
INTERNATIONAL SALES
Filmax (International Sales)
Links
Synopsis
Imagine a woman. Around 45 years old. Slender, attractive, but somewhat ravaged by age. Can you see her? Now put her in a stretch of wasteland. Alone. Sitting on the bonnet of her saloon car. Waiting. She's waiting for someone. She's nervous. Someone's coming towards her from the distance. It looks like a boy. Yes, it's a boy, a 16-year-old kid pedalling his bike. He stops in front of her. They look at one another. Uncomfortable. They don't know what to say. They don't know what to do. He sees her smoking. 'You told me you'd stopped', he says to her. 'And you told me you were older', she answers, half-nervous, half-angry. 'So what now?' he insists, nervous, very nervous. That's exactly the question. What now? What would happen if a 45-year-old woman and a boy of 16 were to get to know one another online and arrange to meet for sex? That's the basic premise of El doble más quince.
Artistic and technical data
FILM RATING
Not recommended for audiences under 16
Locations
Bilbao, Vizcaya
Production
Karmelo Vivanco, Egoitz Rodríguez, Paco Ruiz, Álvaro Herrero, Carlo D'Ursi
Cast
Maribel Verdú, Germán Alcarazu
Photography
Kenneth Oribe Alzíbar
Project financing
EITB, Movistar+, Gobierno Vasco