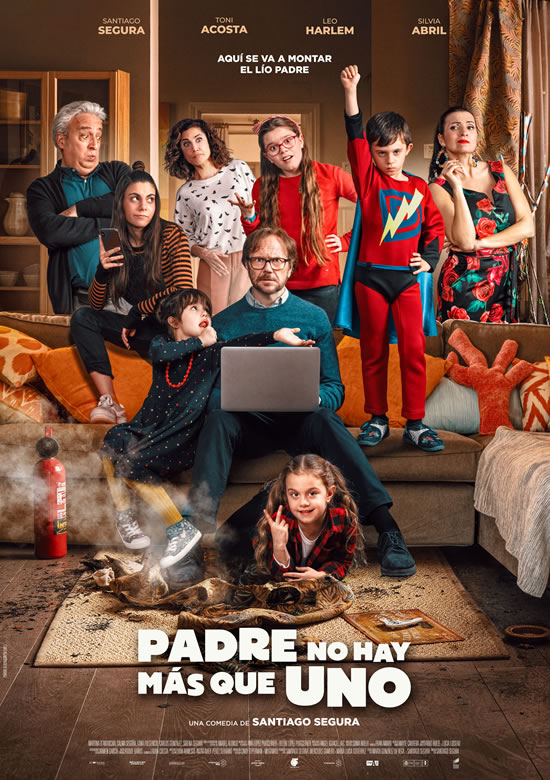 Father There Is Only One
SPAIN RELEASE
August 1, 2019
MADRID PRODUCTION COMPANY
Sony Pictures Entertainment Iberia, S.L.U.
Address
Pedro de Valdivia, 10, 3º. 28006 Madrid
TELEPHONE NUMBER
34 91 418 91 00
OTHERS PRODUCTION COMPANIES
Mamá Se Fue De Viaje La Película, A.I.E. , Bowfinger International Pictures, S.L.
DISTRIBUTION
Sony Pictures Entertainment Iberia, S.L.U.
Links
Synopsis
Javier starts out as a hands-off father with a simplistic outlook on parenting. When the task of caring for five children becomes his alone for a weekend, however, Javier struggles to control the chaos he had previously been content to leave to his wife.
Artistic and technical data
FILM RATING
General audiences
Format
1:2.35 - Dolby Atmos
Locations
Marbella, Málaga , Seseña, Olías del Rey, Toledo , Madrid, Barajas, Piovera , Guadalajara
Production
Santiago Segura, Mercedes Gamero, María Luisa Gutiérrez
Direction
Santiago Segura
Cast
Santiago Segura, Silvia Abril, Toni Acosta, Leo Harlem, Wendy Ramos, Anabel Alonso, Pepa Charro, Goizalde Núñez, Fernando Gil, Luna Fulgencio, Martina d'Antiochi
Screenplay
"Marta González de Vega, Santiago Segura. Based on the film 'Mamá se fue de viaje' by Juan Vera "
Photography
Ángel Iguácel
Project financing
Atresmedia, ICAA, Amazon Prime Video, CreA SGR